Post by flyfishermann1955 on Dec 15, 2017 17:27:58 GMT -6
I made my 1st trip to the Blue River this year on Thursday (14 Dec). Arrived at the C & R parking lot at 0645 and was the 1st car there. Ate breakfast, suited up and started the hike in at 0705. It takes me 25-30 minutes to reach the upper portion. It's a large, deep pool below a small drop-off ledge (with the big rock). Here is a picture looking upstream from the big rock (if you have fished here, you will know this place). The water was clear enough to see the bottom in waist-deep water and that is critical at the Blue!
I started with a combo that has always caught fish. Olive micro jig with an egg in trail. Had a strike in the 1st 10 minutes and caught a nicely colored fish that fought much harder than normal for its size. Now I'm thinking: great, these trout have been fished over for 6 weeks and I quickly caught 1 on an egg.
Not very sophisticated; this should be really fun! That was the last strike I had all morning. I alternated back and forth between this pool and another 1 (downstream) that I like and where I have always caught fish, including a 23 incher. After hooking the bottom and breaking off both flies, I switched to a black micro leech with a large gold bead. Also tried a caddis soft hackle with a red-bodied soft hackle in trail. Later, I swapped out the red fly for a size 18 Black Magic Spider. It was a blue sky day and it was warming up nicely. I kept waiting for the fish to turn on, but it never happened. For the last 30 minutes I tried midges: a deep blue poison tung and a Higa's SOS.
Decided to stick with my plan: walk back to the car, eat lunch, and drive downstream to the campground section. I never saw another person and my car was the only 1 in the parking lot when I arrived back there at 1200. After a 15-minute drive, I parked in the big lot near the low-water crossing. Several guys were fishing at the crossing. I walked downstream past the lawn chair crowd. No one was at the tail end of the lake-like pool, so I took up position (at what I call "the chute") right where the water starts to pick up speed. I started with the midges, but 20 minutes later I was without a single strike. I wanted to leave by 1500, so I could make the 2-hour drive home while it was still light, so I didn't want to drive to another area.
Then came my best decision of the day. I took off the midges and went back to the black leech. It was a fish magnet. I landed 7 and lost 2 others in the next hour. Just kept casting out to the really deep water and stripping it back. Not sure why the fish in the C & R section were anti leech.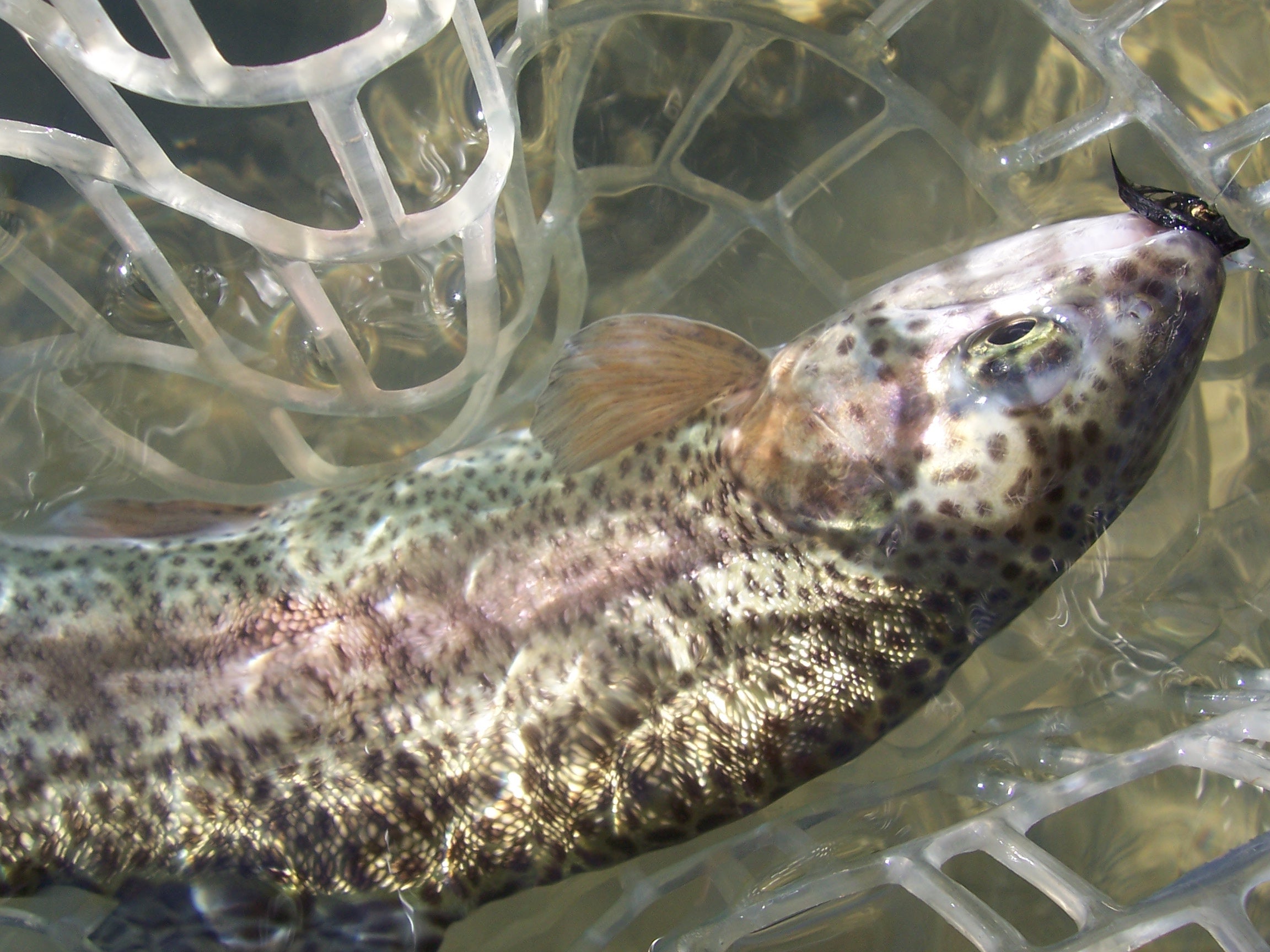 Tight Lines- Ken