Post by flyfishermann1955 on Mar 31, 2018 7:56:50 GMT -6
We went to Cotter/Mountain Home, AR to fish and go to the Sowbug Fly Tying event. Drove over on Monday morning (19 Mar); it's a 6-hour drive from central OK. Water releases the past few weeks have been high; however, we found wadeable water, at some point, every day on the White, mostly at the Forrest & Nina Woods Access, just downstream from the dam. After 2 trips here, it's clear the key to wade fishing is knowing both the current water release conditions and what has happened in the past 24 hours. On the White, you can fish 1 of the farther downstream access points when water release is just starting and then you can fish near the dam shortly after the water is shut off. An hour after they stop generating, you can safely fish with the water at minimum flow (600 cfs).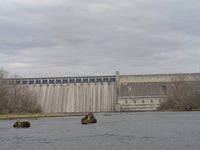 The Norfork had wadeable water too during the no-generation periods; however, this river is only 4.8 miles long, so once generation starts, wade fishing is quickly finished. Remember, a few people drown on these rivers every year trying to catch 1 more fish ahead of rising water; be smart—enough said!
Started at the Woods Access on Monday afternoon and fished a pre-1949 Monty 9' medium trout rod for the 1st time. I baptized the rod by landing a 20-inch Brown on a size 22 red wire midge; only fish of the afternoon for me, but at that point—who cared! The knee-deep riffle looked inviting, but I wasn't expecting this size fish. It had 2 wounds on the top of his head that I suspect were from a bird (heron or eagle). You can see 1 of the wounds on its head and my fly if you click on the picture.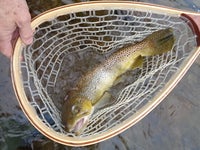 We returned to this area Tuesday afternoon. I fished a multi-fly rig and had success on the locally-famous green butt pattern. Most of my 12 strikes came at the end of the swing with the fly straight downstream from me. My hooking percentage was really poor, as I only hooked up with 4 of the 12. My size 16 flies were tied on scud-style hooks, so I don't think that helped. I will tie some of these flies on a size 14 wet fly hook and see if I can improve my percentage of hook ups. Here is a nice Rainbow on my Phillipson 8.5' Dry Fly Special.
On Wednesday morning, we went to Rim Shoals (23.5 miles downstream from the dam) to fish before the high water made it downstream. Last year, without a wading staff, I waded wherever I wanted and caught fish consistently. This year, with a wading staff, we were confined to the edges. I caught 1 Rainbow on a cerise SJ worm before the water started rising at 1100. Here is my friend Clif with a Rainbow on a Prince nymph from just above the start of the shoal.
We wanted to try the Norfork in the afternoon since neither of us had ever fished there. We arrived to find the water down after they stopped generating (as advertised). The parking lot at the Ackerman Access point was almost full. Someone had told us that the pressure on the Norfork was really high this year because of all the water release on the White. Rather than trying to "squeeze in", we headed back to the White for a repeat of Tuesday afternoon. The fish of the day was this Brown on my 8.5' 1 3/4F Heddon #17.
Thursday morning we attended Sowbug. I missed both my strikes Thursday afternoon and we were both shut out from landing a fish. We went back to Sowbug Friday morning before making the drive back to OK. The caddis were not out in force yet and water release limited the available wade fishing this year. Sowbug was educational and enjoyable; the people are really nice. I'm hoping to make this an annual event!
Tight Lines- Ken