Post by flyfishermann1955 on Dec 19, 2018 19:36:33 GMT -6
We made the 2 hour and 15 minute drive over to the Lower Illinois River on Tuesday (18 Dec) for some end-of-fall fishing. I don't think I've been there since last December's TU stream cleanup! The water release schedule was showing zero generation for the day. Rather than go up by the dam where I normally fish, Clif and I wanted to explore the Watt's property and the catch and release area. After exiting I-40, we made a stop at Loves Truck Plaza and were greeted by this sunrise.
Upon arriving at the Watt's property parking lot at 0730, we found 3 other vehicles. I looked upstream and there was already someone in the long riffle, so after suiting up, we headed downstream in search of moving water. I understand this stream has had giant changes due to several high water events during the past few years. After a 10-minute walk, we started here, where a shallow riffle forms a nice pool by a downed tree.
I started in the riffle and Clif took the still water downstream from the tree. There were 4 guys fishing the still water above the riffle. I missed my first 2 strikes between the downed tree and the far bank. They came at the very end of the swing so my guess is they were on the Green Butt soft hackle that was trailing my Black Pheasant Tail jig. I tried the other side of the tree and had success on the Pheasant Tail.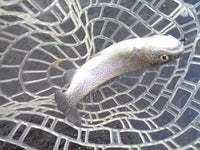 A lot of fish were active in the waist-deep flat water where Clif was fishing, so he called for me to join him. He was using soft hackles and I tied on a pair to see if we could break the code. This may sound hard to believe, but there had to be 40 fish feeding in this pool. We couldn't buy a strike! Clif switched to a Griffith's Gnat and landed his 1st fish. I eventually switched to a size 22 Parachute Adams. After what seemed like 400 casts, I caught the village idiot (an 8-inch Brown) and later his twin brother. I went back up to the riffle and went back to J-P's Taepodong soft hackle with a glass bead thorax and a BWO emerger. Here is a bigger and more colorful Brown that took the BWO on the far side of the tree.
We walked back to the parking lot for lunch. I couldn't believe I caught 3 Brown trout and only 1 Rainbow! Fishermen were stacked up in the flat water downstream from the stocking tube. The parking lot looked like a mall; there were 19 vehicles—on a Tuesday, a week before Christmas. After lunch, we headed downstream to the catch and release area. There were not as many people here.
A guy we talked with when we first arrived at the parking lot was just leaving, so we took the pool he had been fishing. He said fish were feeding heavily earlier, but it had slowed down. It's the pool with the overhead wire that designates the start of the catch and release area. There was 1 other guy downstream in the next flat area. I started at the head of the pool while Clif re-rigged. Again, I missed my first 2 strikes. Clif quickly picked up a pair of fish with a Tup's Indespensible soft hackle. I moved downstream of him, just below the wire. The water here becomes over-your-head deep. I landed 3, including a heavy, 15-inch Rainbow and missed a few more strikes too.
Before leaving, I tied on an olive micro leech to strip back through the deep water. The fish had trouble resisting it and in 15 minutes, I landed 5 Rainbows, turned a fish, and missed 2 other strikes.
Tight Lines- Ken