Post by darrelln09 on Jan 22, 2019 20:35:24 GMT -6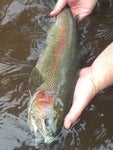 I'm not a hydroelectric engineer, so I don't understand all the ins and outs of the utility business, but I think I have a basic understanding of how business works, and water is a commodity. If you're SWPA it doesn't make a whole lot of sense to run water on summer nights when power demand is at a bare minimum, deplete your water stores, and then have no water to use in the winter when power demand is at its highest. My guess is you probably want to keep the reservoirs at 90-95% capacity so you can have enough water for peak demand but not so high that you're one rain event away from a massive flood.
As far as building a dam to block migration of stripers upstream goes, that doesn't make a lot of sense to me. The McClellan-Kerr Arkansas River system is a world class striper fishery and the Lower Illinois River is an integral part of that fishery, in fact the state record striper came from the lower Illinois. Why mess a up a great striper fishery to protect a bunch of stocked trout? It's not like that river produces wild fish or anything like that. It's always been more or less a seasonal stocker fishery. Same fish they are dumping in the blue river right now that will all be dead by May. No reason to mess with a perfectly good striper fishery to protect a couple stockers. I'd be willing to wager most of the fly fishing community would prefer to catch a striper to a stocked trout any day of the week. I know I would.
I get that you're passionate about it man. I like fishing there too in the wintertime and it's the closest thing to OKC for me by a long shot. I think you just have to accept that trout fishing isn't why these big dams were created, it's just a by product of creating them and we sometimes get favorable enough conditions that we get to go enjoy them. Just the nature of fishing tailwaters. I'm not kidding about checking out roaring river either. There's a bunch of stuff in Missouri that you would like and almost none of them are tailwaters. Roaring river is catch and release flies only through the middle of February, as are the other 3 trout parks. Crane creek is pretty close for you too and it's all wild fish over there. There's a lot of trout water over there in fact and they do a good job with regulations. As close as you are you should look into it.
Just a few points here and then I'll get off my soapbox.
No hydroelectric power revenue is received on the water that goes through the flood control gates.
The lake level has been trending steadily upward since late October. A little proactive thinking could have slowed the rise rate and probably avoided panic mode. (Opening the gates.)
My thought on the rereg dam was to separate the trout in the upper half from the stripers in the lower half. Otherwise, the "year-around trout stream" promotion is really just a cover for the plan to fatten up the stripers.
On the other hand, I'm going to start traveling to Missouri. The Roaring River (2.5 hrs), Crane Creek (2.5 hrs), and Taneycomo (3.5 hrs) all sound really nice. Thank you for those suggestions! I was not familiar with Crane Creek at all. I also enjoyed the Little Red River (4 hrs) very much when I was there in September.