Post by golferjeff on Feb 12, 2019 16:54:39 GMT -6
I teased it a bit earlier today, but here is my trip report for the long weekend spent in Missouri and Arkansas.
My buddy Dan Hughes and I packed up the car Friday afternoon and headed for Roaring River, MO. We were going to meet my friend Larry and his buddy Casey and fish the Roaring river for two days. It's strictly C&R season there right now, so it wasn't terribly busy. Still quite a few folks along this very small manufactured river though. Dan and I had a nice cabin near the park - after searching for it a bit about 1030pm, we pulled up and unloaded our gear for the weekend. After checking out the grounds, we watched a little Lance Egan modern nymphing video to prep us for the two days ahead. I planned to learn a little more about this euro business and a trout park seemed like a good place to do it.
Saturday dawned bright and COLD. 17 degrees with ice on the car, the cliffs, and the rocks.
With numb fingers, we strung up and got into the water to warm up. We fished the wading, flies only section first. I got into fish right away using a 17' leader setup with a Ranger1965 tungsten egg bounced on the bottom. This place reminded me of a larger lost creek or a smaller spillway creek - plunge, waterfall, run, pool, rinse, repeat. The egg tossed into the waterfall and drifted brought a dozen or so standard rainbows to net. I lost the egg (why didn't I take more of them) and tried variations of rigs the rest of the day. I suck at tying blood knots and I never got the feel for the tag ends, so it was pretty much hopeless and improvised from there. I still caught fish, but not with the regularity of the morning. I hiked downstream about 3/4 mile and picked up a few fish, but couldn't hook up with the larger holdovers. Dan was busy working the pools with indicators and doing pretty well too. It seemed like there was a couple hundred fish in every pool/tailout, but most of them were lock-jawed. We got into a decent midge and BWO hatch and fish were rising everywhere, but we couldn't hook up with dries. After the horn sounded, ending fishing for the day, we stood in the parking lot chatting and watched a red-shouldered hawk grab a rainbow trout and take it up to its perch in the tree and proceed to tear it to pieces. Cool end to the day. Larry invited us over for a beer and to meet his family, who live in the park and rent cabins nearby. Dan and I got really hungry by 630, so we went back to the cabin and cooked cheeseburgers and watched some more modern nymphing videos.
Sunday was a bit warmer and cloudier, thank goodness. I went back to the euro thing (sort of) and caught a few nicer fish. BTW - i need someone who can show me how to do a proper setup... i can buy the leaders, but I am really struggling with knots, tag ends, and enough weight to do it right. Maybe I need to be like Todd and just watch more videos. Anyway, we had another good day. Dan really got into some nice fish toward the end - about a dozen fish in an hour. I had fun after I gave up on euro and threw small dries and big dry/droppers. I had a few fish attack the chernobyl dry, but just couldn't keep them buttoned up. Lots of fun though. Most fish we caught were about like this.
pardon the fish sperm

. I think this was the final week of the C&R season, so the fish had some color to them. We liked the Roaring River and would go back again during C&R season. I think you could absolutely slay fish here if you put your mind to it. Dan and I decided to beat the rain and head out of town by 5pm. We drove to Cotter, Arkansas and prepared to fish the White River on Monday. The good old standby, Cotter Trout Lodge, was our home base for the night. With an early boat time, we were out by 10pm.
We met our guide at the Bull Shoals boat ramp at 730 Monday. This was high water drift/jet boat fishing. 10' 6weights with a half ounce of split shot under an indicator and 12' of leader. It was pouring rain all night, all morning, and most of the day, so we knew what we were in for. Bull Shoals was running 3 generators to start, 4-5 for an hour, then back to 2-3 the remainder of the day. It's probably not a coincidence that the best fishing was during the rise from 8am to 9am. I will reiterate what Dain said in an earlier post - it was an epic day. We boated 30 fish, 20 browns and 10 rainbows. The browns ranged from about 13" to just shy of 23". No monsters, but anytime you can catch an 'average' of 18" per fish, its bound to be a good day. I got things started on my first drift, almost by accident. I was laying the line out to make a cast and a nice brown took the egg and bolted upstream. A minute or so later the first of many came to net. Once Dan got the hang of things (casting that much weight isn't easy), he landed a brown and a rainbow. We were making the run from the dam down the state park side and catching a fish or two every trip. Dan got his Personal Best Brown pretty quickly, and he would beat it twice more later in the day.
The cool thing was, the harder it rained, the better the fishing was. Nathaneal the guide was find of saying the fish are already wet, so it doesn't matter to them! The humans were soaked through 5 layers by 10am. The fishing was steady all morning. Of course there has to be a 'one that got away' story in there somewhere. Dan hooked into something really big and he set the hook. As the fish took some line, Dan let it run and then tried to bring it back towards us. The rod literally snapped at the top of the butt section. We watched the indicator swim for a bit before it came up and floated back to us. Two pieces of rod, zero flies and shot, one dejected angler, and no fish. We didn't see it at all, but it might have been Dain's fish twin brother. After rigging back up, we caught a few more fish as the rain got worse. Just before lunch, we hooked into a double in the middle of the river. Once we got them both to the boat, we had exactly 40 inches of trout (Take THAT, DainW) in the net. We violated quiet time regulations and whooped it up for a bit in the boat. Dan's was fatter and more buttery, but these two fish were EXACTLY the same length.
After some much needed lunch and bathroom breaks, we got back after it. We had a run of rainbows a little further downstream (boring), so we moved back up and chased the Browns. Dan got into a nice fish that we had to scare out from under the boat a few times, but got it to the net. Another PB at about 22.5".
A little later we doubled up again. This time with a 17 and an 18. Epic.
I had a little fun with the camera since I was soaked, freezing, and sore. After that, Dan got a case of the tangles due to hypothermia and exhaustion, but I caught about 4-5 more fish. One nice male was decked out in red spots, white tipped fins and had some gnarly teeth. He apparently even tried to eat the reel he was so hungry.
After giving Nathaneal the 'one more pass' sign, I hooked up with a good fish that fought harder than her size. The last Brown of the day, #20, was a 20 incher.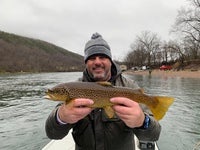 We got back to the ramp and I turned the car heater on full blast while getting out of about 20 pounds of wet clothes. Dan was still floating in the clouds, I think. After professing our gratitude to Nathaneal, Dan and I loaded up and headed back to DFW. Pretty cool when you can spend almost 7 hours talking about a day of fishing that lasted only 7 hours. It sure is fun reliving the experience through the pictures and message boards today though! A great trip with lots of good people. I think we are going to book next year too. Maybe Dain's fish will be 34" next year and I can catch him.......