Post by golferjeff on Dec 2, 2019 16:07:15 GMT -6
Dain and his dad Craig, Aaron (Fly and stream) and myself all gathered for a rainbow trout feast in Missouri over Thanksgiving weekend. We spent about two days on the Current River both in the trout park and in the blue ribbon waters below. We also visited the little wild rainbows on the Little Piney River on Saturday afternoon when the Current blew out. A good trip, some lousy wet weather, and some good evenings with friends.
I drove up Thanksgiving day since my Husbandly duties were relinquished over a year ago. I got to Licking, MO in time to get the hotel room, unpack, put on the waders and gear, and head to the river. I fished the Tan Vat access and caught 3 fish in the hour before darkness came. I did manage a nice wild Current River brown - my first. Magick and I enjoyed taking a few pics with this guy.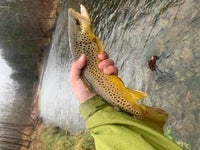 We headed back to the motel when the rain started and the temperature dropped. Dain and his dad arrived that night as I was enjoying some Fireball and a cigar.
Friday we started in the first access below the park. Dain did some damage euro nymphing with eggs while I searched out a nice run and tried small BWO patterns subsurface. The action slowed down as a front pushed in. Dain went to pick up Aaron and get lunch while I hit the park for a few stockers. Midges were coming off in droves, so I used some of my San Juan leftovers to wrangle some rainbows. I got one decent one about 19" just as the guys showed up
We all decided to hit a fly fishing only portion of the park and try our luck there. Unfortunately, that's when Mother Nature decided to dump about an inch of rain on our crew. I had to take Magick back to the car, so I just hit an area in the corner of the park closer to the parking lot. After about a dozen 12" stockers, I hooked a fat girl that tested my 4lb tippet. I managed to land her, but I had no way of taking a good pic of her. She was 21" and FAT. I couldn't hold her with one hand. So before you yell at me for this pic, the ground was saturated, the grass was wet, and she was only there for about 5 seconds. And she was a stocker/holdover.
I quit when it got colder and breezy. Dain, Craig, and AAron fished until the final horn (Literally). They all did well in the FFO waters. Dain managed to land a monster mama after a spirited 5 second fight. From the stories I heard.... A) There was a bigger male nearby, B) Aaron went all MMA on the fish while landing her, and 3) The big girl was very cooperative for pictures.
We enjoyed some good Pizza, whiskey, wine, and stories in Rolla, MO. Aaron gave us some comical relief when trying to explain his pizza order to restaurant management. It continued to rain all night and the level of the local rivers swelled along with it.
Saturday started off cold and wet. The river was up, getting dirtier by the minute, and fishing wasn't as easy as the day before. All the euro guys did pretty well blind fishing, while I managed to get run over by a 600 pound log crashing downstream. Now drenched, cold, fishless, and embarrassed, I gave up and took a pic of Magick and Dain laughing at me.
Eventually the river turned to a chocolate milk color and we decided to head out to try for some wild fish on the Little Piney. I DID stop to catch some hatchery effluent fish just to help my ego.
The drive to Little Piney was only about 30 minutes, but it seemed a world away from Montauk State Park. No people, a wild little spring creek, and lots of tiny wild rainbows. The water was up a bit, but still pretty clear and fishable. The euro guys absolutely killed it. Any egg bounced on the bottom got a strike. Some of these little guys couldn't even fit the egg in their mouths, but it was still fun. It took awhile for me to get the hang of it, but I caught a dozen or so in the last hour once I put the right color egg on.
These are all McCloud river strain rainbows I believe. they were beautiful fish for sure. We didn't land anything bigger than about 12", but it was a lot of fun. Magick had a great time running along the banks and swimming in the big pools. We hiked about just before dark and agreed that this little gem was too much fun.
A good trip all in all. Magick ran about 20 miles, Dain got a monster, I got a nice brown and fished some new water (and got steamrolled by a rogue log), and Craig's boys from OU got a big win. Good times with good friends. Good food, too. I think we are trying to go back over the Xmas holiday. I can't wait.