Post by glitchmo on Jul 14, 2020 18:55:41 GMT -6
So, one of the good thing about trout fishing under the present circumstances, is that it is very social distancing compatible. If you're closer than a quarter mile, you're too close.
My fiancée had a week off work, so I gave myself a week off work, and we decided to go somewhere not quite so full of people and not quite so hot. We settled on the Taos area for our trip, booked an AirBnB, and headed out last Saturday.
Forecast was for afternoon thunderstorms over the weekend, then clearing through the week, which turned out to be accurate. Nonetheless, driving into this as we headed up the Cimarron canyon was a little alarming.
I was worried that the rivers might get blown out, but that never materialized. Additionally, about two hours past Amarillo we found out that we had a slow leak in one of the tires. Fortunately, last time this happened I bought a little compressor that works off the cigarette lighter, so we were able to limp to our destination by refilling the tire every ninety minutes or so.
Lower Hondo
After getting the tire taken care of in the morning, we started ticking off destinations. First we stopped at the big bridge over the Rio Grande for a photo op, then headed down to the John Dunn bridge access to see how the fishing prospects on the Rio Grande looked. We found the rubber hatch in full effect, so didn't stop there for long.
Instead, we headed up the lower Rio Hondo a half mile or so to have lunch and for me to wet a line.
This was a fun little creek, with very small water and very tight quarters. I was fishing my little 6 foot 3 weight, which was about the right rod for the water. I lost a better one, but most of the fish were browns between 6 and 8 inches, which is really about what you'd expect for water like that. They were eager to hit most of the dry flies I tried, but a size 14 or so tan X-Caddis seemed to be marginally better than the other flies I used. Given the sheer volume of caddis in the air, water, and trees, that made sense to me.
Middle Red River
We did one more brief stop on the "middle" Red River between Questa and the town of Red River to see if we couldn't get into a few more, but about fifteen minutes after parking another storm rolled in and blew me off the water.
Unfortunately, somewhere along the way I also lost one of my two boxes of flies. The one l lost was the one containing almost all of the trout flies I have tied, which was rather frustrating. But, I had my "commercial" box, which has flies in it for most situations anyways, so I was OK for fishing on this trip. Still a bummer.
Lower Red River
This was probably my favorite destination of the trip in terms of effort/reward. I think we fished here only twice, but I would have been happy fishing only here the whole trip. Christina had a bum toe, and I didn't want to abandon her (completely) so we didn't try the hike down from the Wild and Scenic area at the confluence, but even the section less than a mile from the trailhead at the hatchery was amazing.
The first day we hiked about a half mile down the canyon, where I parked Christina in a meadow with some mountain goats???
I then went down another half mile or so and fished back up. The browns were, again, highly cooperative. My top fly today was an olive EC Caddis (basically an X-caddis with hackle around the wing), but it probably wasn't that important. Any reasonable drift over reasonable water got a hit, and often the fish would come back for a second round after a missed strike.
On top of that, it was a beautiful area and a beautiful day, with lots of wildlife, clean, cool water, and cooperative fish. What could be better?
We went back again a night or two later right at dusk, and the fish were positively suicidal. Even a bad drift with a half-sunken CDC spruce moth got a hit. Even as it got dark and I could no longer see the fly or the drift fish were still climbing aboard. Half the time I only knew I had something hooked when I went to cast again and the rod came up heavy. Fast, fun, easy dry fly fishing is tough to beat sometimes.
Middle Fork Red River
The next day we hiked up to Middle Fork Lake, at the headwaters of the Middle Fork of the Red River. The hike was about 4 miles and 1200 vertical feet. There are fish in this lake, but after walking the whole circumference of the lake I didn't see any cruising or rising.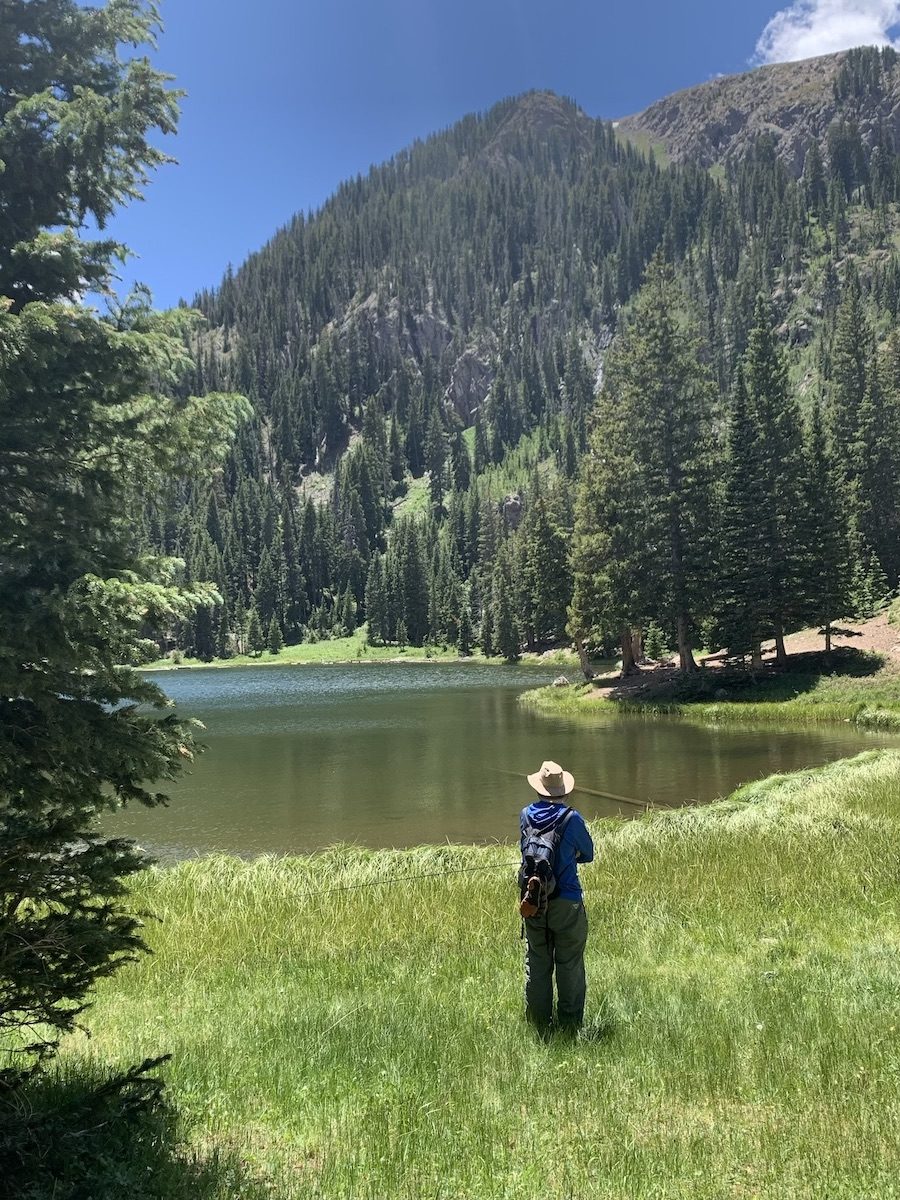 I tried briefly fishing a bugger with a sink tip, and I think I got a few bumps, but nothing stuck. We were again chased back down the mountain by thunder and drops of rain, though it never rained hard.
I stopped at the trailhead to see if I couldn't salvage something from the hike, fishwise.
This hole is about ten feet off the main path, but I'm pretty sure almost no one drops a line in here, because I got my first and only cut(bow? Not sure of the ID on this one) trout about two seconds into my first dapping drift. Considering that I struck out on cutthroats at the Costilla, where I had intended to get them (more on that later), it was a fortunate accident as I was expecting yet more browns.
Upper Red River
After that we stopped at the Upper Red River (above the town, below the forks confluence) to see if I couldn't scare up some browns for dinner. We picked a more or less random section of highway/stream to pull over and fish.
I did a little poking in the rocks, and found a bunch of mayflies ranging from this giant (I assume green drake of some sort) all the way down to 22s and smaller.
So, out came the absurd Indicator Adams
And about ten minutes later we had dinner in hand.
Upper Hondo
The next day we did another hike up at Taos to Williams Lake, which was a pretty area, but unfortunately the lake is shallow and devoid of fish. So, on the way back we stopped on the upper Hondo for a spot of fishing and (for Christina) relaxing in the hammock by the creek.
This was, again, small stream fishing at its best. A little faster and higher gradient than the lower rivers, but the fish were equally cooperative. A good drift was pretty much always worth a strike, and I ended the day with probably ten fish to hand in just a couple hours fishing. Mostly small 6" fish, but I hooked a couple kickers closer to 12" and landed one of them.
The hard part, as always, in this type of fishing isn't so much figuring out what the fish want or where they are (everything, exactly where you think), but where to stand, how to cast, how to mend, etc… in order to get the drift right. It's almost a geometry problem in some ways. Lots of fun!
I did find a little totally unexplained shrine on a little island in the middle of one of the runs, which I found amusing.
Costilla Creek
The last area we fished was Costilla Creek. First of all, this area is stunning. It's a perfect meadow stream with everything you could hope for. It's easy to cast, there's tons of amazing looking water, lots of good size fish, there are buckets of bugs everywhere
-- in the water, on the water, in the air, on the trees, everywhere. And again, it's really pretty. By far the best area we saw on this trip.
But, on the first day I really struggled. Despite all the bugs, mainly caddis, I think, that I could see buzzing around, nothing was really rising that I could see. I did finally manage one fish on a dry/dropper, and missed a couple others, but I felt a little lost and humbled that day. After all the success I had had on the other creeks, it was kind of a shock to get my butt kicked like that.
Also, no cutties to be found either day I was there, but maybe I didn't go far enough up under the dam – I fished the sections right above and below the confluence with Comanche Creek.
Anyways, revenge! We went up again the last day, because I felt like I had a score to settle (and, again, really pretty). I started off frustrated again – nothing was working, no fish were rising. I started with a big foam hopper/dropper, and I had some small fish slash at the hopper but nothing hooked. I tried a slightly more realistic hopper minus the dropper, and that didn't really work either. Finally, I gave in and put together a nymph rig. After several unproductive minutes I came to a nice bend pool I was *certain* held some fish.
On the third or tenth or something drift, I finally came tight to a nice rainbow that turned out to be my best fish of the trip.
With a little confidence established, and knowing now what water to search, I swapped back to dries. This time I went a little smaller, with a size 14 or so foam hopper pattern that I've had in my box for at least ten years.
This, finally got me consistent strikes and hookups. But, I think more important than the pattern was that I slowed down and got a little more careful/technical. Whereas on the other streams I had fished you could just fish standard straight upstream dry flies with confidence, on the Costilla I found that you needed to be a little more careful. Fishing across with good mends, or being sneaky and almost dapping behind bushes proved to be much more successful approaches than the "Cast at everything" approach I had been employing. And, by nymphing up that one fish I had identified the quality holding water on this particular day, which was largely bend pools with back eddies like these; each of which had about five or six fish in it (not that I caught or even hooked them all, but I did see them).
Anyways, I ended the day landing a few more nice rainbows and some smaller browns. I also had some really dramatic last second refusals from BIG browns, which always gets the 'ole heart going.
Anyways, that was the end. Moral of the story: as a small stream dry fly junkie our trip was perfect for me, and as an escape from the awfulness of *gestures at the world these days* it was a much needed respite for both of us.
Hope you're all well!
PS: Can one of our Rocky mountain experts chime in on the Cutthroat ID?